How to Make Every Sales Call Valuable — The Added Value Approach of Inbound Marketing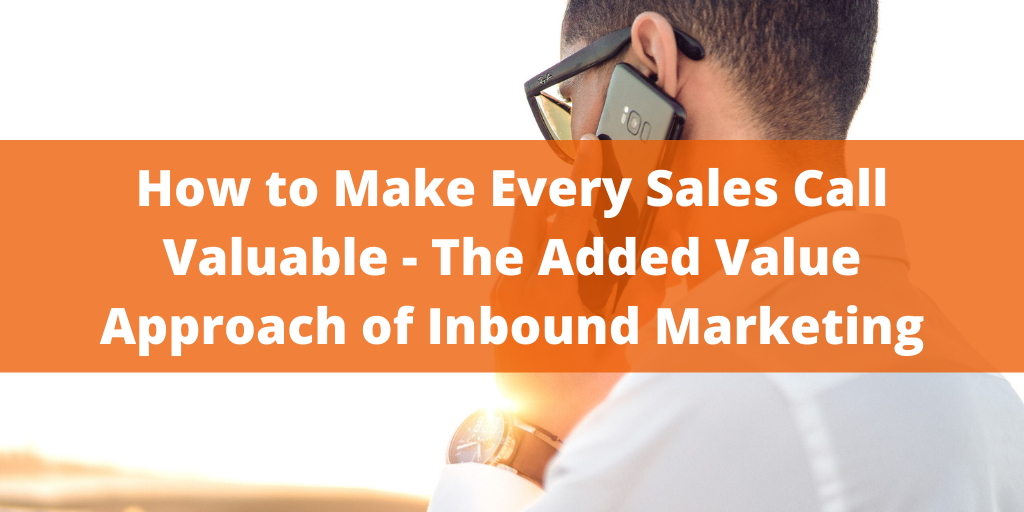 I recently completed the 8 week Pipeline Generation Bootcamp Course hosted by HubSpot and instructed by Dan Tyre, co-author of Inbound Organization: How to Build and Strengthen Your Company's Future Using Inbound Principles.
Eight weeks in the classroom with Dan will teach you a lot of lessons, but the one that resonated the most with me was this: if you are practicing the inbound methodology correctly, every call you make will provide value. I'm going to say that again, because it's at the core of every practice you should be instituting into your sales process; if you are practicing the inbound methodology correctly, every call you make will provide value.
Making every sales call valuable is a process built on trust, authenticity, and efficiency. You believe in your services, and you know that there are people out there who could benefit from them. So how do you build and grow relationships that produce value for both you and your prospects?
You have to get your prospect's attention by building an environment of trust to ultimately display your willingness and desire to help above all.
How to Get Your Prospect's Attention
In today's day and age, prospects deal with LinkedIn, Twitter, Instagram, and Facebook constantly alerting them about all kinds of things — holidays, birthdays, events, status updates, etc., while they're trying to get their work done AND take care of themselves and their families. They're strapped for time. If you call anyone and try to sell them on your services before providing them with an asset or piece of valuable information, they're going to curve you, ghost you, or both. Believe me, I've been there.
For the first few weeks of being a Business Development Representative, I did the same thing over and over again — I tried to get a prospect on the phone. If I succeeded, I gave them my routine elevator pitch in hopes that they'd magically think, "Wow! I was JUST thinking about needing marketing services!" Yeah, right.
Gradually, with the help of my agency's founder, Scotty Smith, my instructor Dan Tyre, and others from HubSpot and my PGB course, I realized I was going about this all wrong. Not only was my process flawed, but my entire approach to Business Development was defective.
There is a way to approach Business Development that doesn't make people groan every time they see your name pop up in their inbox or as an incoming call. In fact, if you're practicing an added value approach of inbound marketing and contacting prospects who are already familiar with your services and could benefit from a conversation with you, they will be excited when they see you contacting them and might even become a lead.
Why? It all boils down to one key ingredient: trust.
Build Trust with Your Prospects
To ensure that you're as effective as possible in your efforts to help your prospect, you have to build an environment of trust. How do you go about accomplishing this? It's simple, really. All you have to do is be true to yourself and your goals and ensure that these goals align with what your prospect sees for themselves and their company.
To build this trust, you want to introduce yourself to the prospect in some way prior to calling them. That doesn't mean you have to send them a message on LinkedIn, slide in their Twitter DM's, or send them a Christmas card — though these could help! If they're already familiar with your brand, meaning they've visited one of your site pages, read your blogs, signed up for your newsletter, etc., that's good enough. They're familiar with your brand and what it offers.
Now, it's time for you to do your research. Become familiar with their company: their culture, what they provide, how long they've been around, etc. Build a profile of exactly who they are, and use this information to conclude what challenges they're likely facing. Most importantly, consider whether or not they'd truly benefit from your efforts. If you've put in the time and you reach out with the mindset of helping them grow and reach their goals, they're going to want to talk to you.
Why? Because you're not trying to sell them on anything, and you're not wasting their time. You're calling with a pre-established understanding of what they provide, and you're attempting to help them in that pursuit.
Show Your Prospect that You Want to Help
Are you still going to find a ton of people who aren't interested in talking to you? Yes. Are you going to find companies that aren't a good fit for what you're offering? Of course. But the bottom line is that you're attempting to help above all.
Some may need a free resource, some may need a quick piece of advice, and some may need a full range of services. It isn't up to you to convince them to buy something they don't need, or to "spread your brand's image" by calling as many people as possible. It's up to you to identify what they truly need most and to help them fill that need whether it comes from you, a trusted colleague, or someone else entirely.
I hold fast to the belief that everyone should be attempting to provide value. It doesn't matter if you're an entrepreneur, a CEO of a fortune 500 company, or a food-service worker. At the end of the day, if you haven't provided value, what are you doing? It's the same principle with Business Development; sure, you can look at it as a sales gig. Or, you can look at it as an opportunity to really make a difference, one call at a time.

Need help with your sales enablement and how to build trust with your prospects? Check out our services and contact CycleWerx Marketing today! Let's put your brand in motion.