LinkedIn B2B Sales & Marketing Solutions
With over 65 million professionals on LinkedIn, social media is not an after thought any more. LinkedIn should now be a key part of your sales and marketing strategies.
CycleWerx has a host of sales and marketing solutions to help you connect to your target prospects for in-market opportunities, and to help grow and prime your out-of-market audience.
B2B Marketing Starter for LinkedIn
CycleWerx's B2B Marketing Starter for LinkedIn is a turnkey way to build a solid foundation to grow your LinkedIn Business Page Followers from your target audience and get started with Inbound Marketing.

Convert existing sales and marketing materials into recyclable, persuasive LinkedIn posts targeted to your audience.
Optimize your LinkedIn Business Page to appeal to your target audience.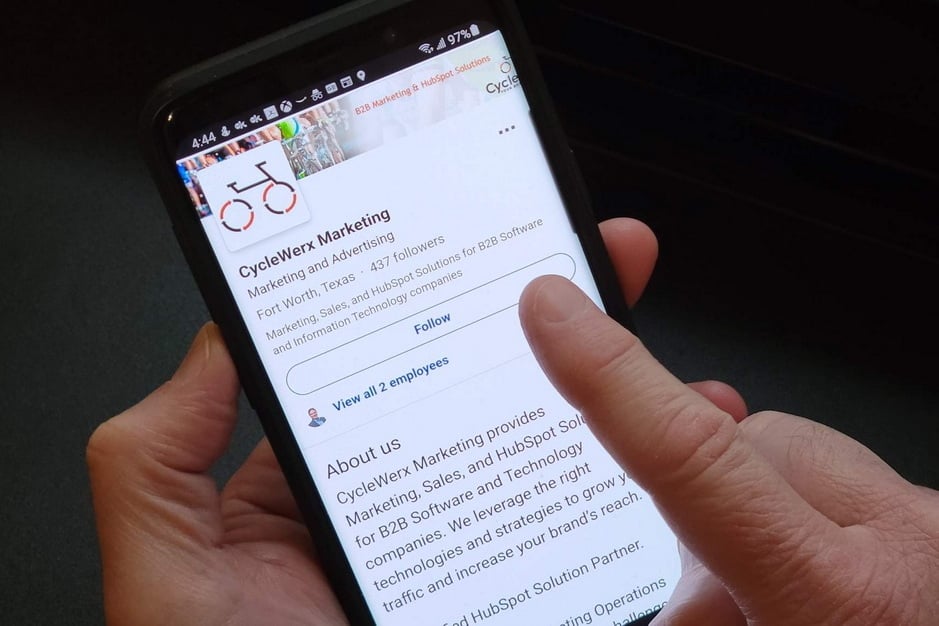 B2B LinkedIn Content Marketing
Time to take your social marketing efforts seriously and capitalize on the benefits of reaching your B2B audience on LinkedIn. CycleWerx can seriously up your content game by growing your content followers and helping you to look like the most credible authority for your solution.
LinkedIn Hashtag Research
Reach your target customers easier by using the LinkedIn Hashtags they follow. We use hashtags to improve the likelihood of your page posts getting seen by your target audience.
B2B LinkedIn Business Page Profile Optimization
Your home page on LinkedIn is every bit as valuable as your webpage. We'll optimize it and make it work for you to help you attract your target audience.
LinkedIn Profile Optimization
Your LinkedIn profile should complement and support your main LinkedIn page. Trying to connect to prospects, the first place they will look is on your profile page. Don't let a poor profile page stop your sales and marketing efforts in their track. We'll optimize your employee(s) profile pages to support your sales and marketing efforts.
LinkedIn Sales Campaigns
Drip Campaigns — from copywriting to automation we can help you uncover in-market prospects with processes that focus on providing value to your audience.
Webinars — Make best use of LinkedIn Events to show your solution off to your audience.
LinkedIn Contact Solutions — Scripts and Automation
Not trying to sell your audience, but offering value is key to increasing your connection success. We create sales scripts that will dramatically improve your connection acceptance rates.
Manually trying to connect with your target prospects on LinkedIn can be very time consuming and resources intensive. We provide automated LinkedIn connection solutions to help.
B2B Advertising solutions for LinkedIn
Reach your B2B targets on the world's largest professional network.
Use your website visitors to find lookalike target audiences.
LinkedIn Prospects to HubSpot
Leverage the contact information for those that you do connect with and those that you don't by importing into your HubSpot CRM and creating ongoing sales campaigns.
LinkedIn Buyer Persona
Convert your marketing buyer persona into a LinkedIn Buyer Persona to identify your target prospects. Selecting the right audience for your solution from the beginning dramatically increases the success of your sales and marketing efforts.
Let's Grow Your Business Together
Ready to take your business to the next level?
Our team of marketing experts is here to help you succeed. Whether you need help with lead generation, website design, or social media marketing, we have the skills and experience to make your brand shine. Don't wait to start seeing real results – get in touch with us today and let's get started!
So, what are you waiting for...