Give Your Sales Team Superpowers with Sales Processes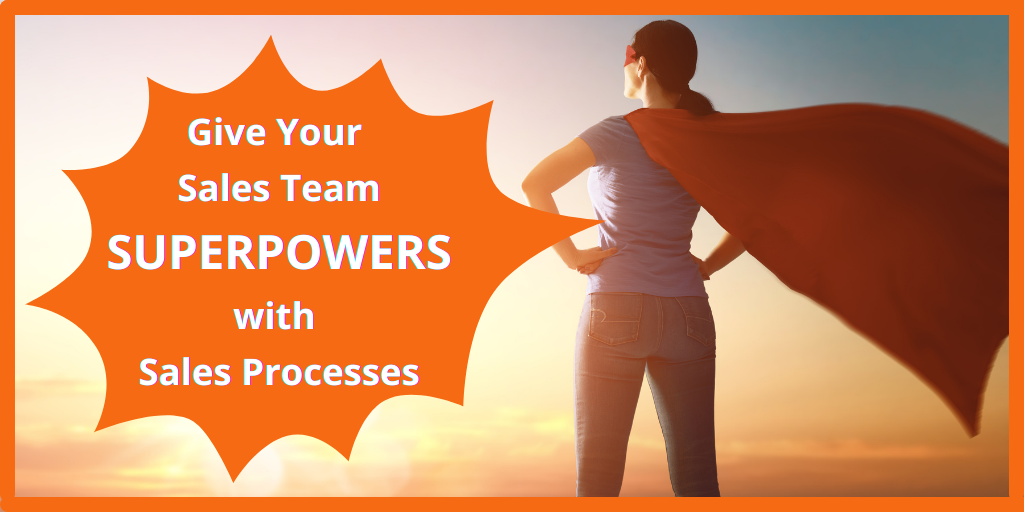 Superpowers? Yeah, right! No, really. Providing your sales team with sales processes really is like giving them superpowers. It can help define their sales tactics and communication. It removes the burden of figuring out how to respond, how to reach out, what to say, what to do next. It lets them focus on building and nurturing relationships with their prospects.
Sales Strategy Vs Sales Process
First off let's be clear, sales processes are not the same as your sales strategy.
A sales strategy defines your overall game plan including who your target market is and ways you intend to reach them. It should address the types of companies that make up your target market and who inside those companies need to be targeted. It should address how you plan to reach these prospects and how often.
A sales process, on the other hand, is a set of definable, repeatable, and often measurable steps or tactics that move prospects from awareness to a closed sale.
Benefits of Implementing Sales Processes
There are many benefits to implementing defined sales processes:
Streamlining the sales process by making salespeople more efficient in their tasks.
Salespeople feel more supported when provided with the tools they need to be most effective.
Improves prospect and customer communication.
Provides a level of consistency across your entire sales team.
Allows new salespeople to onboard faster.
Enables applying metrics to various stages of the sales process.
Reporting can be done on various stages of the sales process.
Ensures consistent brand messaging across your sales team.
Typical Sales Processes
While every organization is different there are many areas that are typically ripe for sales process standardization:

Inbound/Outbound sales call positioning statements and scripts.
Email, voice mail, video email, and LinkedIn connection request scripts.
Email templates:

Prospecting.
Following up for each stage of your sales process.
Closing and confirming deals.
Responding to inquiries or conversions.
Thank you emails.

Automated sales sequences.
Webinars.
Trade shows and conferences.
Your sales lead process — defining the lead lifecycle.
How contacts are entered in your CRM.
How should a new prospect be engaged — automated sales emails, a process of calls and emails.
Does your strategy include reaching out to X number of prospects a week/month? Define how this is tracked so it can be reported on.
Lead qualification processes and lead scoring.
Social media engagement process.
Proposal and quote standardization.
Sales processes can be applied whether you are using a CRM or sales automation system, but the use of such a platform can greatly increase the number of sales processes that can be used. If you are using a CRM and sales automation platform like HubSpot, it can automate many sales processes including providing drop down scripts, templates, and playbooks to make your sales team more efficient and effective.
How Can You Superpower Your Sales Team?
Do you want your sales team to be stronger, more confident, and more efficient? Curious how your sales team can benefit from sales processes? Need help defining your sales strategy or the tactics to make your sales strategy effective? Need a CRM and sales automation platform, like HubSpot? Need to find ways to apply sales processes and automation to make your team more effective?
The team at CycleWerx is here to help, with a wide variety of sales enablement services and a long history of supporting sales teams and assisting in their success.
Contact us to get started today.