What the Heck is Marketing Up To? The Value of Internal Communication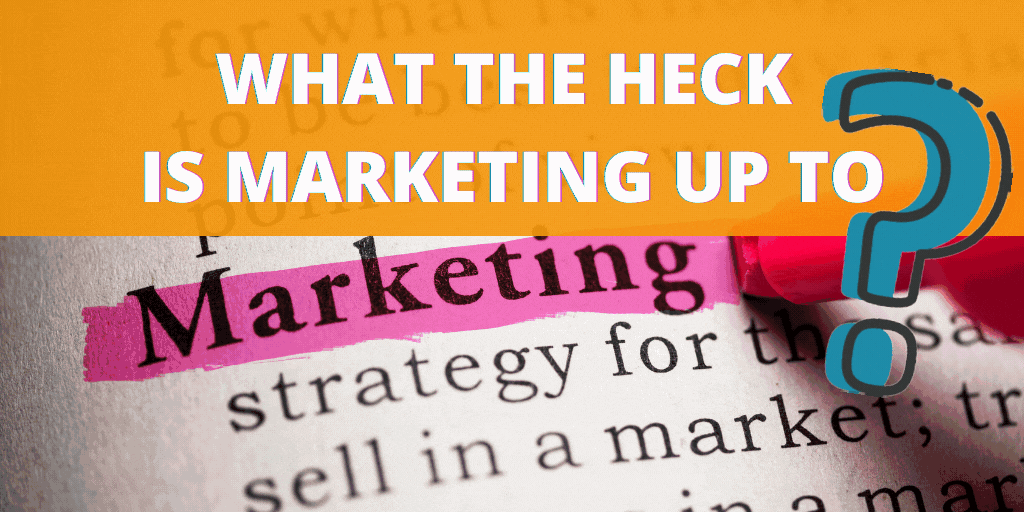 Internal communication should be a key part of a marketer's duties.
How much you and the rest of the marketing team decide to share internally has the potential to impact your job and the rest of the company's perception of you as well as the rest of your marketing team.
What Marketing is Doing Matters
Other departments are interested in what marketing is doing.

The Chief Revenue officer and Sales department wants to know:
What marketing is doing to drive leads, especially marketing qualified leads?
What is marketing doing to support sales efforts?
Human Resources wants to know what marketing is doing.
HR wants to share company success with prospective employees.
They also should be able to engage a prospective employee to see if they are paying attention to what their company is doing in the marketplace.
Finance wants to know.
Finance funds you. They need to know what you are doing. At some point your CEO will ask finance, "Hey, are we investing too much in marketing?"
Outside of payroll costs, marketing program spending tends to be one of the largest company investments. Marketers have a responsibility to manage that money effectively, and that means keeping Finance in the loop.
While a CMO/Marketing Director might know what the marketing team is doing, the rest of the executive team typically doesn't. Wouldn't it be great if this team supported you in your efforts?
But, most importantly, the rest of the employees at your company are interested in what marketing is up to:
They want to rally behind their team and know their company is actively working on growth efforts — we all want to work at a company that is growing and is successful!
Employees want to engage — they are a great resource for spreading your social marketing efforts by getting them to engage and share with their own audience.
Consistent Internal Communication is Key
Marketers must take it upon themselves to be their own cheerleader, promoter — rarely will anybody ask you outright to do this. As such, internal communication needs to be considered part of your routine marketing efforts.
My solution has been to share a marketing content or campaign calendar with key executives and selected departments. Personally, I've had great success using Google Calendar to manage my marketing calendar.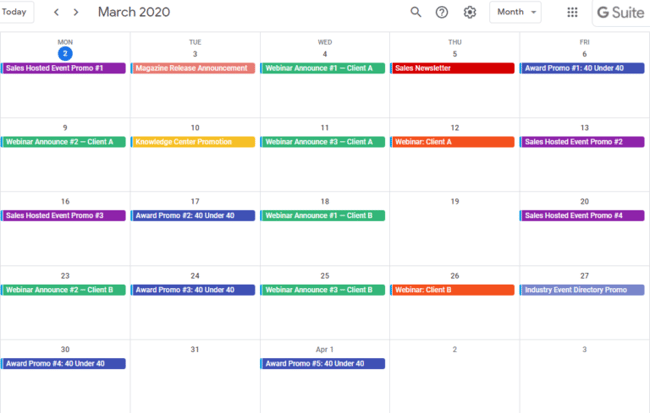 For Example, in a given month, I'll add the following campaign efforts to my Google Marketing Calendar:
Webinars I'm driving prospects to attend
Conferences our sales team is attending
Emails and social posts supporting the webinars and conferences
Monthly partner email
Monthly sales email
Etc.
Once your calendar is set up, make sure to share it with all key departments and executives. Email them, explaining what it is and how it can benefit them and their department to pay attention to what is going on with the marketing calendar.
Take the time to speak with each of them to make sure that they have it set up correctly so that they can actually access it. I've seen countless times people get challenged subscribing to calendars.
But you are not done yet, you have to constantly remind them of its existence and to use it. Set up a task reminder to send them a monthly or quarterly update with a quick bullet list of campaigns your team is working on. Remind them that they can keep track of all these efforts via their subscribed marketing calendar.
Take advantage of these updates to encourage all your team members to engage with and share your campaigns on social media through their own audience.
Sharing Benefits You and the Company
So let me leave you some key points:

The rest of your company is interested in what marketing is doing, and they notice.
It is in your best interest to share what you are doing with the rest of the company. You must provide internal PR.
A great solution for sharing is a marketing campaign calendar.
Make sure that all key departments are actually using it by sending periodic updates encouraging its use.
Take advantage of your company's new involvement and ask for social media engagement.
Your company wants to know what marketing is up to, and sharing with them can be a boost to your current job and your career.
---
Need help improving your marketing communication or other marketing or sales enablement challenge? Contact CycleWerx Marketing.