Segmentation: Demographics vs. Firmographics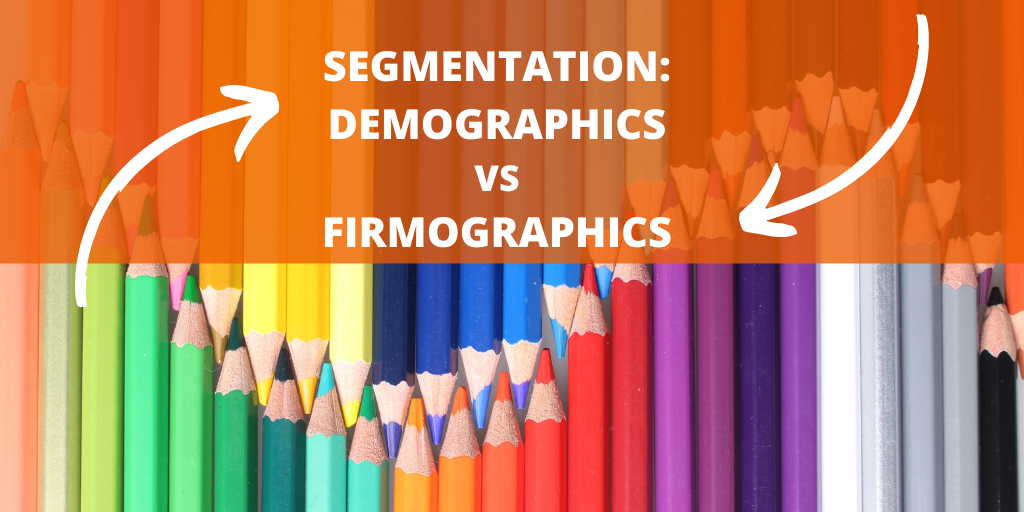 Segmentation should be a key aspect of your marketing and sales strategies. Defining and segmenting your audience helps you to narrow in on your target customer by presenting that specific segment with messaging they are most receptive to.
Marketers should identify unique segments so that each segment can have their needs addressed. For example a marketing email might have slightly different copy for each segment to make the message resonate more effectively with the members of each audience segment.
From a sales perspective, segmenting your audience can help you hone in on key accounts, and develop sales materials that are targeted specifically to a very targeted audience. For example, let's say you are a software publisher that develops software specifically for oil refineries. You know from experience that your target audience are senior level management that manage those that run those refineries. Using segmentation can help you identify your target audience and develop a prospect list to target.
Demographics
Most of us are familiar with standard demographic segmentation. Demographic segmentation identifies and categorizes groups of people based on certain identifiable traits, such as:
Age
Gender
Ethnicity
Income
Level of education
Religion
Occupation
Family structure
So much of marketing is based on the understanding of demographic segmentation and it is a core aspect of consumer-based marketing and advertising.
Firmographics
Demographics segmentation is important to all marketers, but B2B marketers need the additional segmentation that firmographics can provide. Firmographic segmentation is the classification of B2B customers based on company or organization attributes. Some of the most commonly used firmographic segmentation attributes are:
Industry
Location
Annual revenue
Company size
Company type
Employee/Executive title
There might be additional firmographics that apply to your business or industry.
Industry
Targeting industry is a great first step to segmenting to your target market. Does your product/service appeal to people in that industry? Is this an efficient industry to sell to? If you have several industries you could target, which one can provide the most ROI for your marketing dollars, or for your sales investment?
Location
Where is your prospect company located? Do they have multiple locations? Do they operate locally, nationally, or internationally? What time zone are they in? Are they in the same city as you? Does location matter for your industry?
Annual Revenue
What is their annual revenue? Are they so big that they obviously don't need your services? Are they so small that they could never afford to work with you? You want to make sure you are targeting B2B prospects who need your services and could realistically afford your product or services.
Company Size
How many employees does the target company have? Are they growing or downsizing? Is the company a startup or an established presence in their industry? What size company would be ideal for your company to work with?
Company Type
You might choose to identify various types of companies or locations. Is this a headquarters location or a branch office, public versus privately held, is this a headquarters versus a subsidiary, or a partnership versus a corporation? Narrowing and focusing on the right type of company can help focus your sales efforts even more.
Employee/Executive Title
A company or organization is made up on lots of people doing lots of different things. You need to be able to segment down to who at your target organization is most likely to need and use the product or service you are selling, who are involved in the decision making process, and who is involved in the final approval process. Identifying and targeting key stakeholders by title can help make sure your marketing is delivering the right message to each separate group, and that your salespeople are focused on contacting and meeting with the right people.
Firmographics are Essential for B2B Companies
Firmographic segmentation provides valuable marketing insights for any B2B company. The more details you know about your prospective B2B client, the more you can customize your message. Personalization and customization that are targeted to a unique segment will provide a greater chance for your message to resonate and a far greater chance for conversion..
Throughout the B2B marketing process, if you keep firmographic segmentation in mind, you can succeed in your efforts to find the perfect business match.
Do you need help with outlining your own B2B firmographic market segmentations? Contact CycleWerx Marketing today. We're here to put your brand in motion.