Key Features to an Eye-Catching Website (Part 2)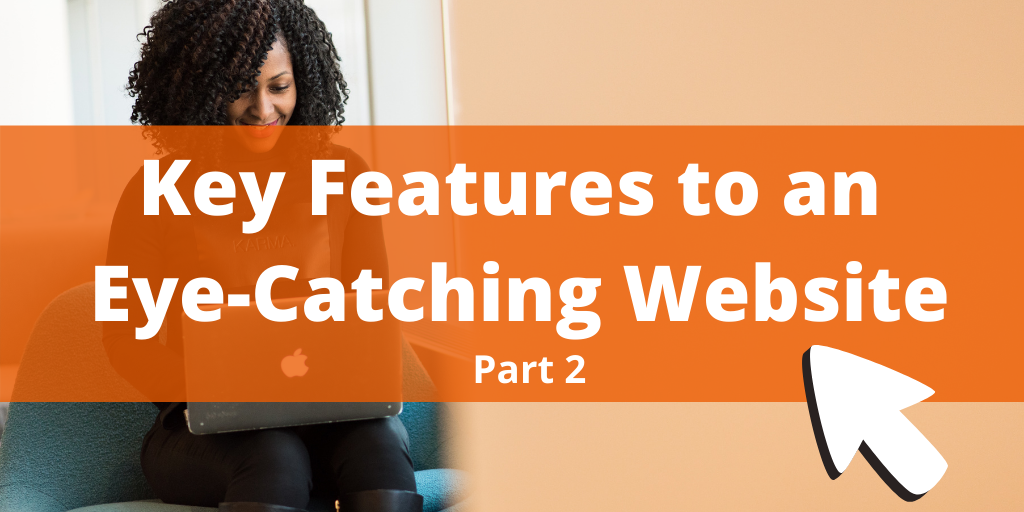 Your great marketing from social media, emails, and other tools have brought your audience to your website, but just like how you craft your social media posts and your emails, you need to craft your website strategically.
You want your website to appeal to your audience, so they will stay and look for what they need. Your website is the window into your company, so make a good impression and they might become a loyal customer!
As we mentioned in our last blog post, your website needs
White space
Clear navigation bar
Featured information through design
But now let's explore the last three key features to make your website a tool to attract new customers:
Intentional color choices
Motion in design
Variety of images (personal and stock)
4. Intentional Color Choices
No one likes a plain black and white website because it's not eye-catching or memorable; however, going too overboard with different colors can be distracting.
Pick two or three colors that represent your brand and use that in your website. When choosing your colors, make sure to think about whether or not it is hard to read your content on/with certain colors. Your colors should enhance/support your content not distract from it.
You can use the color scheme of your website and incorporate it into your social media designs so your whole look is cohesive and recognizable on all platforms.
Here are some examples of great, eye-catching color choices:
5. Motion in Design
You should try adding some motion to your design to catch your audience's attention. For example, as someone scrolls down, certain pieces of information slide into frame. This simple movement makes your content more exciting.
Here are some websites that use motion in their design to engage their audience.
When your mouse hovers over a blog in our Momentum blog page, the post is highlighted in orange. This small motion draws the eye to a particular blog post!
When your mouse goes over a product/ service they provide, more information pops up (great because it makes the site look less crowded on first glance and then it gives control to the audience to view what they need)
6. Variety of Images (Personal and Stock)
Images are a great design element for any website because it breaks up your content and gives your audience an insight into the company. You have two choices when it comes to images — personal images of your company and/ or stock images which you can get free online.
I highly recommend leaning more toward using personal images when you can, because those images show your audience who they could be working with. This look into your business will entice your audience to find out more about you.
They say a picture is worth a thousand words and adding personal images of your business will show your audience what kind of company you are, which helps support your written content like your mission statement or about us page.
Would you rather do business with someone that you can "picture" yourself working with or someone that you don't know much about?
Remember, whether personal or stock images, make sure the quality is good because blurry images don't look professional and appealing to the eye.
Here are some websites that use a good balance of personal and stock images:
Designing an eye-catching website is key to gaining new customers. What someone sees on your website is their first impression and you want to make a strong, powerful impact and demonstrate that you're professional and someone they want to do business with. Knowing these key features is only the beginning to creating an eye-catching website. If you want help implementing these features contact CycleWerx today!