Drive Lead Generation with Content Offers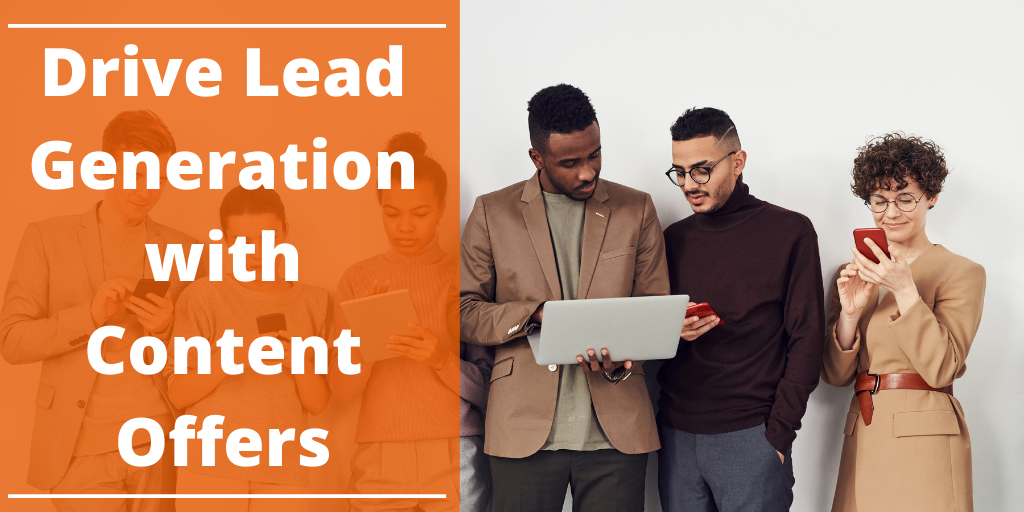 What is one the thing all businesses want more of? Leads!
How cool would it be if potential prospects came and let us know they had some level of interest in our product or service? Wouldn't it be wonderful if all we had to do to get new business was to hang our Web shingle out and wait for the prospects to show up?
We all know lead generation doesn't work like this. However, over the past few years a new marketing strategy, Inbound Marketing, has emerged to not only make this more of a reality, but has become a defined marketing strategy that over the long run will constantly provide your business with new leads.
Inbound marketing, as defined by HubSpot, is a business methodology that attracts customers by creating valuable content that solves problems they already have.
The Concept
You create a content offer (often referred to as a lead magnet) that solves for a specific problem or provides value-added information.
You then drive people to read your content on your site. While reading your content your prospects are exposed to CTA's (Call-to-Actions), advertising a piece of content that can solve a specific problem your prospect has. They are so intrigued they will trade their contact information for this valuable content.

Your prospect has taken another step down the customer journey. Not only are they on your site reading your content, but because they want to invest in reading your downloadable content, you know they are more invested in solving a particular business challenge — hopefully one your business can solve.
Implementing a Content Offer Strategy
In practice, implementing lead generation via content offers successfully can be challenging even for seasoned marketers. Proper setup of all the different moving parts takes time to implement and to get just right.
A content offer campaign usually has the following components:
Content Offer (Lead Magnet)
Landing Page
Form (& CRM or Customer Database)
Thank you Page & Email
Call-to-Action (CTA's)
Initial CTA exposure: Blog, Email, Social media
Content Offer (Lead Magnet)
For some this can be the most challenging aspect of this entire strategy. The idea is that you create a piece of content that is valuable enough to your audience that they will exchange their contact information to have access to it. The content offer is often referred to as a lead magnet by digital marketers as its goal is to attract leads.

A content offer could be a wide variety of things, including checklists, testimonials, an industry statistics report, a guide, an infographic, and so much more. The biggest thing I recommend is that your content offer should not "sell" your business. Focus your content offer on helping your prospect somehow.
Content offers can be of any length, but many choose to take a deep dive on a particular subject matter. This is why you often see eBooks being used as content offers.
The content offer doesn't have to be a text file either. It could be a specific financial calculator, a programmed spreadsheet, or maybe a Zip file full of types of images. The offer can really be almost anything. The key is making it valuable to your target audience.
Landing Page
A landing page is a website page with a unique URL that has two key components:
Information describing your offer
A form for people to fill out to receive your offer
This landing page is different from a static webpage and can be thought of more as a campaign page. It has a singular goal: to convert page visitors. So make sure the content and imagery support that goal. Again, the focus is not on you selling your product/services, but on providing a value-added content offer that solves their problem.
Form (& CRM or Customer Database)
Most marketers might put landing pages and forms in the same section. But, I tend to look at the storing and use of customer data as vital to any good solid digital marketing program.
Forms are the front end capture tool of your customer database. While it is completely possible to have forms collect data into a single list file, it is so much easier to work with if your form data goes directly into your CRM (Customer Relationship Manager) or customer database, like HubSpot. If you use a CRM with forms, the moment someone completes a form the contact data they provided is instantly ready to work with.
Using a CRM with your forms allows for the form to serve as an instant business trigger. The CRM can notify your sales team of a new lead or put them in a queue for your sales team to follow up with.
Pair your form with a marketing automation platform, like HubSpot, and you now have a serious digital marketing solution. On a trigger a form can send a thank you letter, add the customer's contact information to a newsletter subscription, add them to an information drip campaign, and so much more.
Thank you Page & Email
Make sure you create either a separate thank you web page, or have text pop up to replace the form to let people know that their information has been submitted and their form will be emailed to them. Or, upon submit, have it immediately download or open their content.
Either way I recommend you program a thank you email to be sent to the respondent that provides an ongoing way to access the content they submitted their information for. This is good form, and it puts your company information in their inbox.
Call-to-Action (CTA's)
Call-to-actions or CTA's can be thought of as little advertisements typically found within article content that call out and drive people to your content offer landing page.
They can be text or images. The goal is for them to stand out from the rest of your page content. For instance if used in a blog it might look like the button image above. Or, you can make it look like a small ad similar to the image at the end of this post.
Introductory Exposure: Blog, Email, Social media
Your target audience gets exposed to your content offer by a variety of vehicles. While you can use paid advertising to jump start the process, most businesses realize that Inbound Marketing takes a bit of time to really start being a significant ongoing lead generator.
There are a variety of ways to expose your audience to your content offer. Most B2B companies typically use a combination of blogs, emails, and social media. A typical successful strategy is to drive traffic to your site to read your blogs and then while there use CTAs to encourage them to visit your content offer landing page. These visitors could come from email newsletters, social posts, and finding your content organically.
Parting Content Offer Tips
Driving lead generation with content offers is a long-term marketing strategy. One that tends to start off like a small snowball rolling down a hill, getting bigger and bigger over time. Employed correctly over time a solid content offer strategy can become a very consistent driver of quality leads.
Make sure you take into consideration that this is not a one and be done thing. As part of a content offer campaign, you must make sure you constantly find ways to expose your audience to your content offer. Consider doing a minimum of 5 blog posts for each content offer, and occasionally send out emails directing your audience to your content offer landing page. And, don't forget to add this as an ongoing part of your social media strategy.
As you start to identify different ways to solve your target audience's problems, you might come up with a wide variety of content offers that you can employ. These then can be rotated out throughout your ongoing content strategy.
As more traffic comes to your site from your content and content offers, your search engine rankings will naturally rise too because:
You demonstrate you are an authority on the subject
You frequently post content and don't let your site permeate with stale content
You help solve your target audience's problems
This rise in organic search ranking will help even more people find your content.
Driving lead generation with content offers should be a key part of your inbound marketing strategy.