The Top 8 Free Marketing Tools & Platforms to Effectively Execute your Marketing Strategy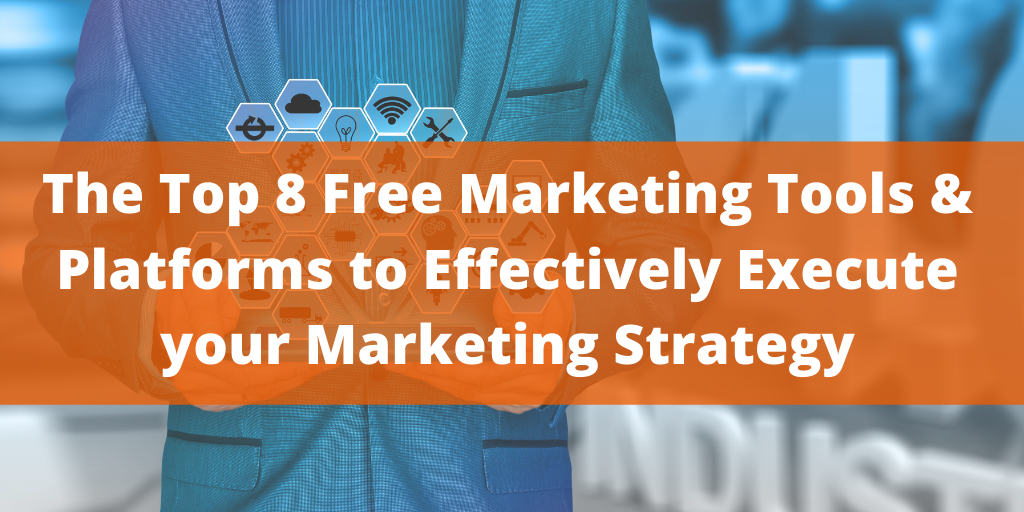 As a new and/or smaller business, marketing can be overwhelming and expensive with so many platforms to choose from. However, you can successfully implement your marketing strategies and campaigns with the availability of some amazing free marketing platforms.
We love the platforms and tools we use at CycleWerx to execute our marketing campaigns. Many of the tools we use have free or starter versions that can help entrepreneurs and small businesses get started. Here are some of the free tools we recommend:
1. Marketing Project Management
When working remote or in the office, assigning and keeping track of all your projects can be overwhelming. Don't freak out! There are free marketing project management platforms to help you and your team stay on track and never forget a deadline.
Asana is a professional- and enterprise-level project management platform with an amazingly robust free platform for smaller teams or businesses. It allows you to assign and assemble projects with your team and is an organizers dream! You can create folders for each big project, assign individual tasks for certain team members, and set up a calendar for campaigns. My favorite part is once you click a task complete, you get a fun rainbow unicorn icon to celebrate! It makes completing my tasks so much more satisfying.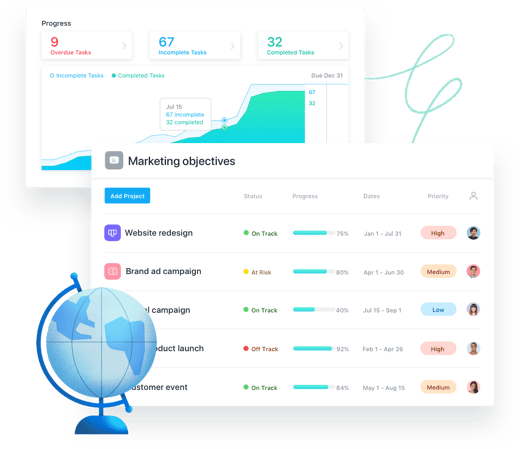 Marketing strategy is founded on organization because there are so many moving parts. Asana can help you and all your team stay organized and keep track of your marketing plans! Also, you can easily check up on how your fellow team members are doing with certain projects without having to constantly ask them if they are done.
2. CRM and Marketing Automation
A Customer Relationship Management (CRM) and Marketing Automation platform can help you connect and help your customers, get insight on marketing strategies, and gain more leads. They are of great value to any sized business.
HubSpot is another platform with extremely robust professional- and enterprise-level offerings. However, their free CRM software is crazy powerful! This platform can greatly improve your sales and marketing capabilities. And, for a very tiny monthly investment you can even move up to their Starter level with amazing benefits for small businesses.
HubSpot free CRM can help your sales team stay focused on targeting and communicating with your sales leads. You can create tasks and sales templates, so leads never fall through the crack. And sales managers can stay up-to-date on leads and deals. Management won't have to guess how things are going, as you can collect actual data to determine if your current strategy works or needs to be changed.
For your marketing team, HubSpot CRM can get your marketing communications efforts started. You can shape your marketing into an unstoppable machine, and therefore, help your sales team get more leads. Then, your customer service team can talk directly to customers in one place and keep track of all the conversations. This will help them provide great and timely service.
HubSpot CRM also allows you to:
Create bulk marketing emails
Manage and organize your contacts
Create live chat boxes and bots for your website
Design amazing landing pages to attract new leads
Add forms to your site to capture new leads
Track your deals and leads
HubSpot CRM will make finding new customers and providing great services so much easier for everyone. Your marketers will have a solid platform to distribute your content, your sales team can better capture new leads, and your customer service can respond to all your customers questions and needs.
HubSpot CRM has so many amazing features, but it can be confusing and overwhelming. CycleWerx is a HubSpot Solution Provider, so let us help you navigate their CRM and Marketing Automation platform!
3. Social Media Scheduling and Publishing
Most B2B marketing strategies contain a role for reaching customers via social media. We like using Hootsuite as our social media scheduler and publisher. Hootsuite is a social media powerhouse offering a tremendous amount of features. But, many small businesses can really kick up their social media marketing capabilities by taking advantage of Hootsuite Free. And, even their paid plans include a free 30 day trial.
We recommend Hootsuite because it allows you to assemble and schedule social media posts over multiple channels. For example, we can create a post about one of our blogs for LinkedIn, Twitter, and Facebook at once from a single dashboard.
Hootsuite also lets you schedule posts for a certain day and time, so you don't have to remember at exactly 9 am to post about your blog or make an announcement to your customers. Or, you can schedule all your upcoming weekly posts during a single session.
Having to log in and out of all your business's social media accounts every single day is time consuming! Hootsuite can streamline the whole process. The free version offers 3 social profiles and up to 30 scheduled messages.
4. Graphic Design
You might have amazing content to share on your website and on social media, but you also need amazing graphics to catch your audience's attention! Canva is a cloud-based graphic design platform. You can create graphics for social media, business cards, blog header images, brochures, infographics, presentations, and so much more.
With the free version of Canva, you have access to free stock images and graphics to spice up any social media post or business document. Also, you can create teams and shared folders so that all your team members can view and work on the same projects. This is perfect for remote work!
I love Canva as an artistic person but I'm not a professional graphic designer. Even though I don't know how to use InDesign or Photoshop, I can still create amazing graphics with Canva. If I'm stuck on a design idea, Canva provides a ton of suggested designs that I can use or serves as the inspiration to get me going. I find it super user friendly!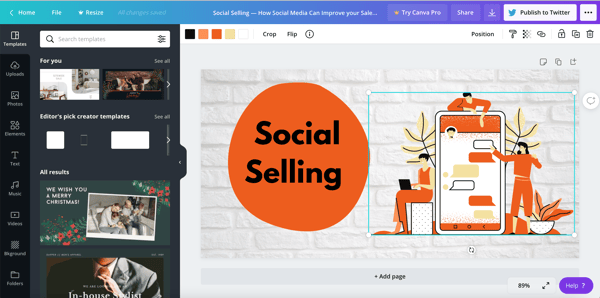 5. Video for Sales Emails and Marketing Efforts
Vidyard offers a free video platform. You can record, upload, and send unlimited videos. This is great for video posts on your social media, email, newsletters, and much more.
Why create videos? Sometimes, people would rather watch a fun, informative video instead of reading a blog post. Change up your content with videos to capture the attention of your audience. Video is a powerful format for your social media, and it is rewarded by the social media platforms by getting more exposure and reach than a simple written post.
Video can also be a great way to capture a possible lead's attention for your sales team. CycleWerx uses Vidyard to create amazing sales video emails. Our sales team finds it quick and efficient to record a personalized video that we know will grab the recipient's attention. We find this gives us a much greater response rate than your typical email or cold call.
Videos can also be a great way to repackage your current content. For example, take an old blog post and make it into a video with a new twist or added information. You can add the video to your website, share on social media, or send in a newsletter. It will allow you to save time but be highly effective!
6. Video Meetings and Conferences
Your business should be able to meet as a team virtually especially when so many of us are working remote. Google Meet or Zoom are great video conferencing solutions that let you and your team communicate, have meetings, and discuss projects for free! And, they are great for your sales team to use with its prospects or customers.
Google Meet allows you and your team members to meet remotely! You can easily send an invite with a link to your secured call. Also, you can meet for an hour with screen sharing and a chat box. It has great background effects, our favorite feature is the blurry background effect so you don't have to worry about your messy office at home when you chat with your boss or team members.
Zoom also offers a free plan. The plan includes a host plus 100 participants, 40 minute max meetings, and unlimited 1:1 meetings. For a small business, this could easily support you and your team's meetings.
Zoom has amazing features like screen sharing (great for presentations) and chat box to share links or additional content. It's always good to have a backup virtual meeting platform.
CycleWerx uses both platforms to accommodate our team and clients.
7. Marketing Campaign Analytics, Tracking, and Reporting
Understanding the traffic to your website or performance of your ads can help you create the best content that your audience actually wants. One platform that offers free marketing campaign analytics, tracking, and reporting is Google Analytics.
Google Analytics is one of the best ways, and free to boot, to track site and marketing campaign engagement. Many are very aware of Google Analytics being able to capture and report on who is coming to your site.
For example, Google Analytics shows you how many people visit your website and exactly what pages they stay on. This helps you learn what your audience wants to read and searches for, so you can use that info to add more of that content to your website and make yourself an authority. In return, your google ranking will increase with more tailored SEO and increased traffic. Also, Google Analytics works with Google AdWords seamlessly. Working with Google Analytics, your ads will have more success.
A lesser known capability that every marketer should be taking advantage of is its marketing campaign tracking for organic and paid marketing campaigns. It will let you code every social post you make so you can easily differentiate the traffic between multiple simultaneous running campaigns. Or, how about including a link to your site from within a PDF? Set up the campaign properly and Google Analytics can report which PDF it came from.
8. Office Suite & Company Email
Your business will need company emails for your team to work with customers and each other. So, I'm cheating a bit here as this next recommendation is not a free tool. However, it is ridiculously inexpensive for what you get. Google Workspace (formerly GSuite) is a super robust platform that not only provides hosted business email, but access to a full suite of office tools, and so very much more. Google Workspace is a steal at $6 a month/per user!
The benefits of Google Workspace are:
Gmail — Custom and secure hosted business email.
Meet — Expands capabilities of free video conferencing.
Google Calendar — It's a great tool to create content calendars.

Check out our blog

on how you can create your own content calendar. You can easily share with other team members to view and edit the calendar and schedule a whole months worth of content.
Google Hangouts — An excellent business chat messenger. Stay in touch with all your team members and easily communicate with them.
Google Drive — You can organize all business's content in folders and share all your documents with the right people.
Google Sheets, Slides, and Documents — Don't have Microsoft Office? With your account, you can get the same platforms for free. Google Sheets is a good platform to create tables and spreadsheets, Slides can make great powerpoint presentations, and Documents allows you to write content with other team members at the same time!
Google Workspace is perfect for any team to plan marketing campaigns, create your content, meet virtually, and get marketing analytics.
Low Barrier to Entry
You don't have to break the bank as a new or small business to propel your marketing efforts with the availability of these free and inexpensive marketing tools and platforms. These platforms can help you implement your marketing strategy, increase your reach, and grow your sales.

The barrier to entry to having powerful marketing tools at your disposal has never been lower. But, like all tools they become more powerful in an expert's hand. Need help setting up all your platforms and running your marketing campaigns? Contact CycleWerx Marketing today!
Post navigation