Should You Work With A Marketing Agency?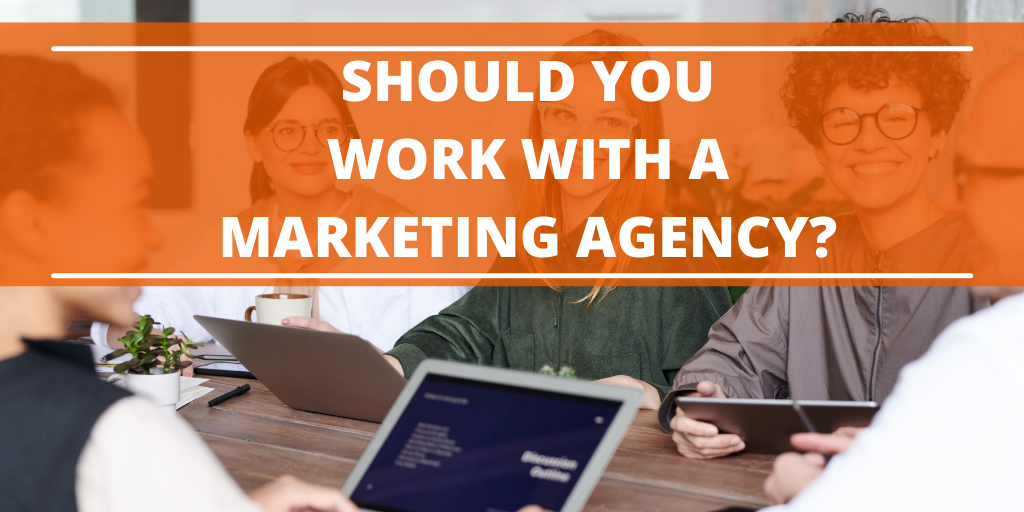 As a small business owner or a start up, you might wonder why you should hire a marketing agency. Why can't you just do your own marketing? How hard can it possibly be?The truth is that marketing can be very complicated. And B2B marketing can be very challenging. Where to focus your efforts for the best results? Which channel should you invest your efforts in? Should social media be part of your strategy? What is the best way to even get started?
Investing in a marketing agency offers a fabulous return on your investment
Your time can be spent on your primary business.
They can craft your "story" and incorporate it into all of your marketing materials. They can serve as sales and marketing technology, software, and platform experts.
Let's discuss each of these issues in detail.
Your time can be spent on your primary business
A marketing agency allows you to devote your time to your primary business.
If you are a software developer, you want to spend all of your time developing software. If you are building out a service offering you want to focus on your service. Marketing is very time consuming. Is it a productive use of your time to be doing your own marketing?
Getting your company up and running with marketing usually requires a significant investment in time and resources just to develop your branding, identifying your buyer persona, clarifying and focusing on your target audience, and company positioning.
Other marketing efforts might include regularly scheduled blog posts, email campaigns, newsletters, social media posts, web pages, or PPC ads just to name a few. These can all be very time consuming to produce and properly execute. Let a marketing agency handle these duties for you so that you can focus on your core products and services.
A marketing agency can craft and tell your story
Your story is the "why" behind your business. Your marketing should be an ongoing, compelling, and engaging story that will connect with your target audience and encourage them to interact with you. Your story will build trust between you and your market. Your story will build you up as an authority in your field. Don't take time away from your primary business to become a storyteller. Let a marketing agency be your storyteller so that you can focus on your business.
A marketing agency should have expertise
A full-service marketing agency, like CycleWerx Marketing, has experience with a multitude of different marketing software tools. You won't have to spend the time researching products or learning how to use them – we've already done the work for you.
CRM and Marketing Automation platforms are key to running consistent, effective marketing and sales programs. Finding an agency partner to work with that is skilled in one of these platforms is essential.
CycleWerx happens to not only have expertise in various marketing platforms, but we are a Certified Solution Partner for one of the top CRM & Marketing Automation Platforms around — HubSpot. We are experts on integrating HubSpot with the rest of your marketing tech stack, getting your marketing and sales teams onboarded, and executing simple to complex campaigns all designed around meeting your sales and marketing goals.
CycleWerx understands which marketing techniques work and which don't, and we can strategize your marketing efforts accordingly. We know how to test all the details of your campaigns before they go live to verify that every element is working properly across all channels. We know how to track data to measure the effectiveness of each campaign and ensure that you continue to progress toward your marketing goals.
Can't afford marketing?
Many small business owners might think that there is no room in the budget to hire a marketing agency. However, without proper marketing, that brilliant startup idea is sure to go nowhere or that software application your team has spent the past year building will not gain enough reach with your target audience to be a success. A failure to invest in proactive, strategic marketing leaves your business plan up to chance. Are you willing to take that risk?
If you are running a small business or especially a startup, you want to spend your time attending to your business at hand. Engaging in marketing can be a time-consuming endeavor, which will take your attention away from your primary concern. If you are a software developer, or an accountant, or an artist, why should you spend any of your time away from your expertise? Marketing can be complicated and time consuming. A marketing agency, like CycleWerx has the staff, the technology, and the expertise to handle these duties for you.
There is an eager market out there just waiting for your product or service. Let them know you're here. Contact CycleWerx Marketing today to see how a marketing agency can help promote your business and drive leads.