Improve Audience Engagement via LinkedIn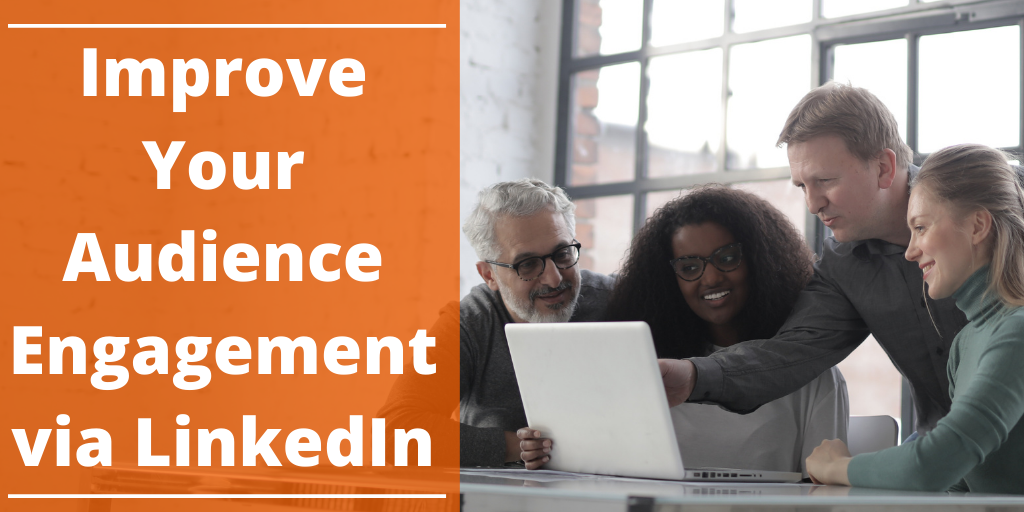 For companies in the B2B space LinkedIn is most likely an integral part of your marketing efforts. And, of course it is. This is where your audience is: prospects, current customers, employees, and your industry's community. LinkedIn is a great social media marketing platform for growing and increasing your brand — both your personal and organizational brand. A key way to increase your brand's visibility is by improving and increasing your audience engagement.

We've previously addressed the role Marketing Consistency plays in growing your brand's engagement. Now let's look at practical ways you can increase social media engagement at the content level, through individual posts.

Would you be impressed if you could increase your LinkedIn post engagement by 200%? What if I told you that you could consistently increase your post engagement by 500% or more by simply following the tips below?

Let's break down the 3 major sections of each post to find ways to improve these areas, and to help them address your posting strategy or posting goals:
Post Content
Featured Image
Comments
Post Content
It all starts with the content. The key is to think about the strategy behind every post:
What is the goal of this post?
Who specifically is the target audience of this post?
How is this content relevant and helpful to your target audience?
What is your call to action (CTA)? What action do you want your audience to take?
How can you engage others to interact with this post so that it can get more views?
The Teaser Line
When you post to LinkedIn, only the first few lines of text are shown. To read the rest of the article, the reader has to select a "see more" tab. You want to ensure that your first few lines of text are hooking and engaging your readers so that they will want to click the "see more" button to see what you have to say on this topic.

A good teaser line will offer a glimpse of the information that you will be talking about. It is a clue which will build excitement around the post. Make your teaser so engaging that your prospects won't want to scroll away.
Believe it or not, LinkedIn has a defined number of lines and characters for whether you are posting text only or with media. John Espirian, of Espirian Copywriting, has a great post on LinkedIn "see more"? break points.
The Text
Make sure your post is broken up into small segments with short paragraphs, lots of white space, clearly defined headers and, when called for, bullet points. A long block of text is difficult to absorb and might get scrolled past. Make your content easy to read

Your post should focus on a single topic. Make sure that everything in your post offers value relative to the topic at hand. Focus on offering value, and make sure you include a CTA if your post needs it.
A side note: Many businesses lose focus on their social media platforms and start to comment on irrelevant or non-topical items. Remember this is your brand's platform (personal or business). Keep your topics relevant to the platform.
Hashtags
At the end of the post, you need to include LinkedIn hashtags. Hashtags should represent the interest of your target audience. Use hashtags that your target audience is using. The whole point of using hashtags is because this particular information is valuable to the people who follow those specific hashtags.
Note: On LinkedIn people follow specific hashtags. Don't just make them up or pick ones that sound cute. Select hashtags that your post's target audience follows.
It goes without saying that your hashtags must be pertinent to your business at hand. If you use popular but unrelated hashtags simply to get followers to your site, your prospects will feel duped and won't want to follow you.

Some social media platforms can support many hashtags, even up to 30, but on LinkedIn, the standard is to use about five hashtags per post.
Featured Image or Other Media
On LinkedIn people can engage with text only or with media. Adding media is a great way to draw attention to the post. Don't forget if you are including a link to another URL that LinkedIn will first look to the target URL to see if there is a featured image to display with the post.

Sometimes though you want to just add media, and most often an image to compliment a text post. Finding and creating a picture can often be challenging. However, there are many tools, including really good free ones, that make it easy to design a suitable image for your post.
Size Properly
Every social media platform has different size requirements for their pics. LinkedIn is no different. There are many sites out there that keep up with the optimal social media post size, including Sprout Social's Always Up-to-Date Guide to Social Media Image Sizes (direct link to LinkedIn sizes).

At CycleWerx we have settled on using the same size for our featured blog images and LinkedIn images: 1024 x 512px. We've had good luck with standardizing on this size across social media platforms.
Branding
Your images should reflect your branding with colors and logo consistent with your company brand. Keep a branding guide handy with the specific named colors in your logo so that when you create your images you can use consistent colors.

The media that you use should reflect the content of the post. It feels like bait-and-switch to a reader if they see a picture of a cute puppy, but there is no reference to a puppy in the text. Make sure that your image illustrates the message in your post.
Comment for Engagement
The comment section on social media is a crucial segment to your posting strategy. Believe it or not, this section plays a major role in driving engagement. Your engagement in this conversation can boost and encourage engagement between your company, your followers, and your prospects.
Make the First Comment
After you have entered your post on LinkedIn, you should then make the first comment. In this comment you will raise something interesting about the post, and select other 1st level LinkedIn contacts that you believe will engage with your post (like, comment, share). Within this first comment, tag several other people that you believe will engage with your post.

Some people form groups of contacts in advance that agree to like and respond to other's posts. This is often referred to as an Engagement Pod. While I have used engagement pods in the past, I actually like to try to mix it up and engage different contacts with each post. What's the point in connecting with others on LinkedIn if you don't engage with them?

When selecting others to tag, consider those from your organization, other experts on the post's topic who might be willing to add value to the topic, and those that are willing to engage or share the post.
Start a Conversation with Colleagues
You want to demonstrate to the LinkedIn algorithm that your post is interesting and that people are engaging with it (like, commenting, and sharing). This in turn gets your post shared with a larger audience, typically outside your 1st level contacts.

When the tagged people comment, respond quickly and positively. This is not the end result. The objective isn't to simply have a conversation with your colleagues. The idea is to have such an interesting conversation with your colleagues that others will want to join in and even possibly share with their own audience.
Get Others to Join in the Conversation
Of course, you will respond quickly to every comment, making every participant feel welcomed into the conversation. One way to get outsiders to join the conversation is to ask a question such as, "Has this ever happened to you?" or "What would you do in this case?"

Once you have started a meaningful conversation, connect with these people on the platform — growing your audience.
Engage your LinkedIn Audience
Spending just a few minutes more thinking through the strategy of your post and the action you want your audience to take can help guide and improve your post. Then apply this strategy to enhance the content and it's associated media. Then leverage an engagement pod or other 1st level contacts to kick off a conversation.

Growing your brand's engagement is a big part of marketing and sales. Need help growing your brand, social media's presence, followers, or improving engagement? CycleWerx is happy to help. Contact CycleWerx Marketing today to put your brand in motion.